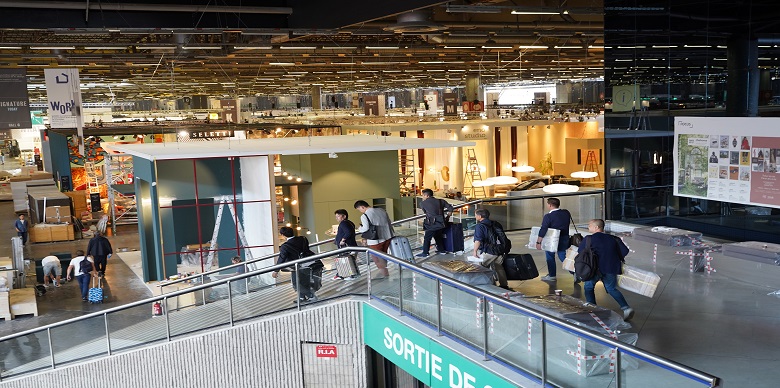 Reports from the participants in Maison & Objet 2019
Eight textile manufacturers from Tango made an exhibition at the "Maison & Objet" held over 5 days from September  6 , 2019.
This is our second time participation in the international trade fair that attracts about 90,000 buyers and designers from all around the world.
We are going to introduce some reports from the participants.
This year, we exhibited large textile panels on the big wall surfaces.
We were able to convey more specific installation images to the visitors, and many people stopped to look at them.
The "transparent" textiles produced by several companies attracted particular attention.
Textiles such as curtains and partitions which softly wrap the space appeal to the human senses regardless of countries or languages.
Traditional Tango Chirimen can also be a new material for the designers to see it for the first time.
At the same time, some issues to solve became clear such as incombustibility and the width of fabric, and we could collect a lot of information for the future development.
As we walked through the venue of Maison & Objet, we were amazed at the luxuries of the top brand's booths in each country.
There was a numerous of furniture placed in a gorgeous space that could be mistaken for an actual store or hotel.
High-quality textiles from Tango are the materials that can make this space even more gorgeous.
We deeply convinced our silk weaved by traditional technique would be a luxury gem that is demanded from the world.
Thorough the exhibition at Maison & Objet, each company gained a variety of business talks and learning
We would like to thank those who have given us a lot of guidance and cooperation during the exhibition.
We will make further efforts and contribute to the development of Tango area.