This mark guarantees the high-quality craftmanship of the Kyoto-Tango area.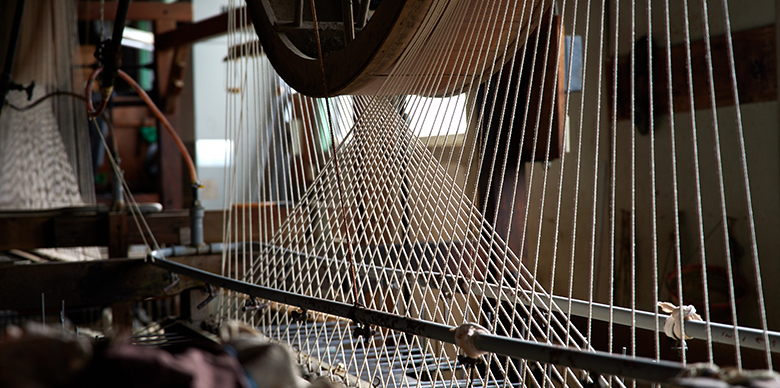 Statement
_A Highly-Applicable Brand Name
When one hears "Tango Chirimen", one might think of 100% pure silk, a fine texture beloved by many, or maybe even a 30-centemeter-thick textile used in Japanese clothing. However, new fabrics born from technological innovation are commonplace amongst merchandise offered by the Tango Textile manufacturers. With a background in traditional Tango Chirimen techniques, members of this association introduce fresh ideas and designs. As new merchandise continues to push the boundary of what it means to be "Tango Chirimen", we felt it necessary to employ a new brand name in preparation for global advertisement. Thus, we present to you "TANGO OPEN".
_Why "TANGO OPEN"
"TANGO OPEN" is both a brand name that will coexist with the traditional "Japanese" Tango Chirimen, as well as a declaration of determination. It is a strong message highlighting our confidence in this product. Taking the deep, refined tradition of Chirimen into account, we believe that this product can be appreciated by the world.
"OPEN" can also mean "to begin". A word ready to OPEN up a path to the world, it invites two-way communication and various points of views. On the other hand, TANGO was originally a part of the Tanba Province (丹波 in Japanese), and it is believed that the original Japanese characters used to spell Tanba are (旦波). These characters translate into "sunrise" and "beginning", and although it would be grammatically correct to say "OPEN TANGO", we proposedly emphasized the word "TANGO" in order to show our craftsmen's love for our region. It is our belief that this is a suitable expression to convey, "From Tango to the world, and from the world to Tango."
Certification System
TANGO OPEN is a trademark which belongs to Tango Textile Industrial Association, and only those businesses that meet the concept of TANGO OPEN and satisfy our own criteria will be certified.
Certification criteria
Concept

Commitment to the concept of TANGO OPEN

Quality

Product creation based on the history and technology cultivated for many years

Creative

Aiming to create unique products

Ethical

Having pride and sincerity in "Tango" and "Tango textile", and working to maintain and develop the brand in cooperation with others.
Eligible businesses
#Sole proprietors residing in Tango region (Miyazu City, Kyotango City, Ine Town, or Yosano Town), corporations or organizations which have their main place of business in Tango region.
#Those that carry out the main process of planning, manufacturing or processing of textile products in the Tango region.
#For sole proprietors, corporations or organizations residing outside of Tango region, the applicant must be recommended by those who meet the above two requirements.
Use of Trademarks
Certified businesses can use certified materials and tools for promotion.If you would like to collaborate with certified businesses, please make a contact with each of them or ask us through the inquiry form.
Examples of certified materials and tools for promotion 
Tags, woven label, hangers, etc.