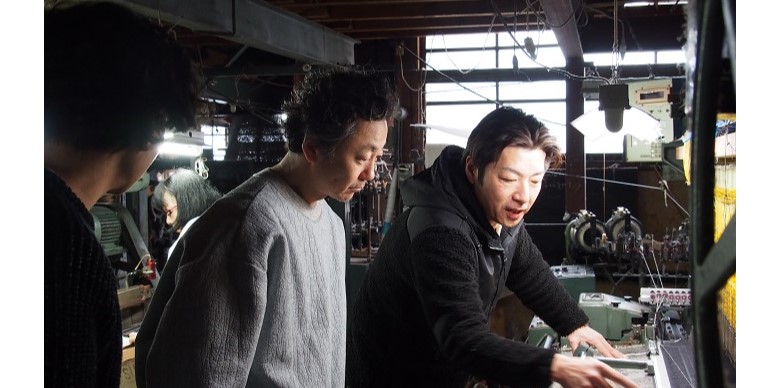 Japan's Top Designers Visit Tango!
As a part of the "300 Years of Tango Chirimen" project, we've actively invited Japan's top designers to Tango .
Toshikazu Iwaya (Designer of DRESSCAMP)
Participated in this year's Paris Fashion Week as the manager of the Yumi Katsura Creative Team's "Paris Haute Couture Collection Dress", all while working on collaborations with sportswear companies.
Keita Maruyama (Representative Designer from KEITA MARUYAMA)
Keita Maruyama has a wealth of experience which ranges from designing uniforms for airport employees and Japan Airlines' flight crews, to stage wear for musicians and actors. He also boasts prior experience in kimono design.
Keiko Sasaki(came together with Mr. Maruyama)
A fashion stylist who is currently active in many fields including magazines, advertisement and television, Keiko Sasaki has the ability to seek out the world's "kawaii". She is attracting attention from various industries as a leader of fashion.
Junichi Abe (Representative Designer from Kolor)
Mr. Abe has experience with original color combinations and materials, as well as popular designs that are with the times and maintain a good balance of pattern, material, and stitch. They receive high marks in and outside of Japan.
Kunihiko Morinaga (Representative Designer from ANREALAGE)
「Kunihiko Morinaga creates original western clothing free from the constraints of the human body. He also creates colorful, precise patchwork made from the belief that "perfection lies in the details". He specializes in western clothes that are proactively made with new technologies, and is currently a finalist for the "LVMH Prize for Young Fashion Designers 2019", a prize run by the LVMH group, which is affiliated with the Mega-Brand "Louis Vuitton".
http://www.anrealage.com/?lang=en
Otsuka Hiromi (came together with Mr. Morinaga)
A freelance fashion coordinator who resides in Paris, Otsuka Hiromi supports Japanese creators in foreign markets through efforts like conducting Japanese-brand fashion shows and exhibitions in Paris.
Everyone came and participated in brief meetings with a select few Chirimen makers, but we were able to have them experience the wonder of Tango Chirimen, the emotions of those who deal in it, as well as Tango's nature and cuisine.