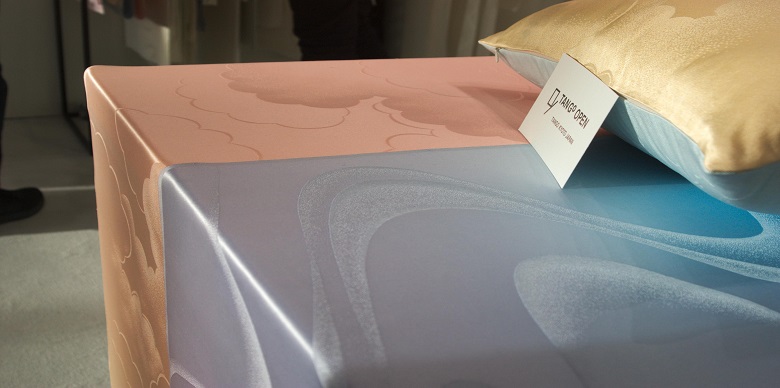 High Praise at International Interior Trade Fair!
[Activity Report:" MAISON & OBJET Paris 2018"]
Six Tango textile companies* exhibited at the 2018 "MAISON & OBJET Paris", an international interior and sundries trade fair that was held from September 7th to September 11th.
This was the first time that Tango textiles were featured at a large-scale exhibition of the foreign interior market, a market where the demand for Tango textiles such as "Tango Chirimen" are expected to rise.**
MAISON & OBJET Paris is a world-leading interior trade fair and is conducted twice a year in Paris, France. Over 80,000 people from 150 countries attend, and around 3,000 companies from 65 countries come to show their wares.
There were luxury hotels and mansions sprawled across the spacious, 115,000-square-meter venue. Cost-effective linen made for luxury brand boutiques were also on display. In such an environment, Tango representatives exhibited products made using the time-tested techniques of Tango textiling at the SME SUPPORT JAPAN booth, "IMAGINITIVE MATERIALS".
Connoisseurs from various countries visited the booth and commented things like "There are so many charming goods; I want to use these for future projects" in regards to products enriched with diverse, natural materials including silk, seashells, and fujifu.
This exhibition highlighted the promising possibilities for Tango Textiles in this new market.
*Exhibitors: (Yosano Town) Creative Workshop ITOASOBI, MIYASHIN Co.,Ltd, Yasuda Textiles Co.,Ltd
 (Kyotango City)TAMIYA RADEN Co.,Ltd, TAYUH the Textile Industry Co.,Ltd, YUSHISHA
** Exhibited as a part of Japan Heritage Promotion Project "Tango Chirimen Corridor"